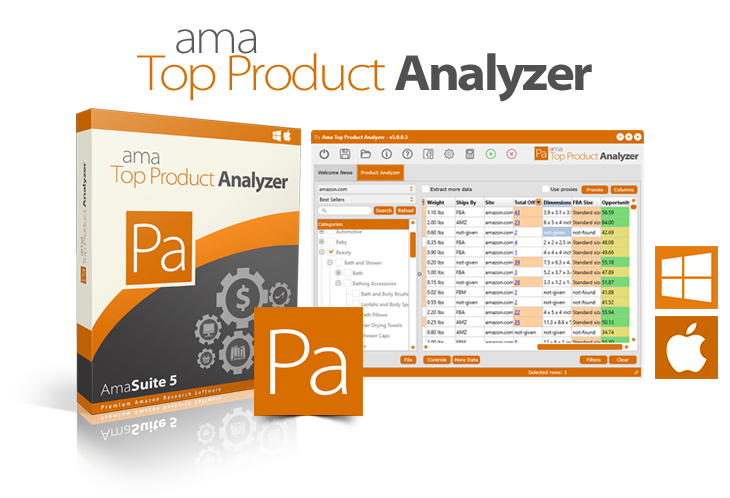 Analyze Top Selling Products!
This powerful Windows PC & Mac software is used to extract and analyze all the top 100 categories from the US and UK Amazon sites!
Can't think of a product to sell on Amazon?
No problem, use the Ama Top Product Analyzer to uncover the top performing products hiding deep down into ANY sub-category!
Using the blazing fast filter technology along with the customizable opportunity score feature, you can instantly uncover the exact products you should be selling on Amazon that can make you money!
Works on both Mac and Windows PC computers!
Quickly find worthy top selling products to sell or promote through the Amazon affiliate program!
You can see the data within Best Sellers, Top Rated, Hot New Releases, Movers & Shakers, Most Gifted, and Most Wished For!
Get 200-300 daily fresh proxies that are built-in to the software's new Proxy feature!
Export the data to interactive HTML reports containing your affiliate link that you can sell!
Over 67,200 categories built into the software for Amazon US & UK combined!
Extract the top 100 lists from both Amazon.com and Amazon.co.uk
Never miss any data with the new built-in CAPTCHA detection feature!
In this latest version, you get the main overall rank and main category for every product!
Plus, get the product weight, product dimensions, ships by, FBA size, total offers, as well as, the product opportunity score!
This allows you to pin-point hidden niches with masterful precision!
Now you can target low-hanging fruit without any competition instead of fighting against the furious marketing-lions dominating the massively saturated niches!