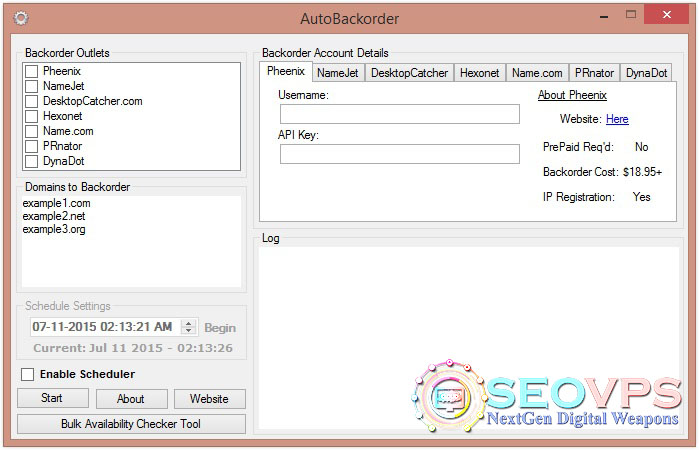 Submit Your Domain Name Backorder Requests Automatically!
AutoBackorder is a Windows based application that helps you automate the process of backordering your desired expired domain names. Whether you backorder domains for SEO, client needs, development ideas, or investment purposes; This software is guaranteed to save you lots of extra time by automatically submitting multiple domain backorder requests into multiple companies with just one simple click. By submitting the same backorder request into multiple outlets it gives you the power of having multiple companies chase after the same domains for you – Increasing your odds of having at least one of these companies catch it successfully! AutoBackorder currently works with seven different backorder companies: Pheenix, NameJet, DesktopCatcher, DynaDot, Name.com, PRnator, and Hexonet. You can choose to submit your backorders into just one, or all seven! Stop wasting time jumping from website to website trying to do this manually each day. Download your copy of AutoBackorder and start doing the job automatically right now!
Features
Supports Multiple Backorder Outlets – Our software currently supports seven different backorder websites. This gives you the ability to submit your desired domain backorder request into multiple companies, which in return would have more people chasing after that domain you really want. This can increase your odds of successfully catching it with at least one outlet you've submitted into!
Multi-Threaded Coding Structure – Our software runs on multiple threads making the entire submission process extremely fast. Submit one or a dozen domains into all seven websites with just one simple click and a few short seconds!
No Limit on Domains – There is no limit to the number of domains you can submit in each session. Whether you want to submit 5 domain backorder requests or 50, add your domains and submit them all automatically with just one click!
Bulk Domain Availability Checker – Have a large list of domains you just want to check the availability on? The built-in bulk availability checker tool can check extremely large lists of domain names to see which ones are available to hand register (no registrations are done)!