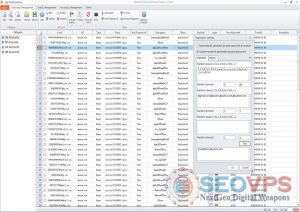 BOOST TRAFFIC, INCREASE RANK, BEAT COMPETITORS
Still, waiting for the sales?
Use AmzChief To Boost Your Product Rank And Let The Sales Rolling In!
AmzChief can help you boost your product rank on Amazon by simulating real human traffic. It's probably the fastest and easiest way to make your product stand on the first page of Amazon search.
And best of all: It works 100% on automation.
How AmzChief WorksSimply Let AmzChief Brings The Traffic To Your Product, And See For Yourself How It Can Drastically Improve Your Products Rank!
AmzChief uses an advanced technology, which is able to find your products either from Google or Amazon search engine. Since the traffic comes from Google and Amazon search – just like what real human does – the traffic looks so natural not even a smart AI like Jarvis would notice it's fake traffic
After it finds your products, AmzChief will click on the product page and simulates real human behaviour like scrolling, clicking some page elements, and even adding your products into the shopping cart
The process can be repeated several times until you can get enough traffic to dominate the Amazon search engine, and beat all your competitors​
What Can AmzChief Do For You?

Dominate Your Market And Make More Sales.
AmzChief can boost your products rank by bringing unlimited traffic to your product page. The traffic looks so natural because this smart bot is able to simulate real human behavior like scrolling, clicking some page elements, and even adding your products into the shopping cart.
AmzChief can use either Google search engine or Amazon site to find your product page. If you want to save more time, AmzChief will automatically generate the right links based on the product links you provide, and then visit your product page.
With AmzChief, being the #1 on Amazon can be fast and easy!
Make Everything As Easy As Counting 1-2-3.
AmzChief is designed to make everything as 1-2-3 for you. That's why it also comes with the features that allow you to create and manage multiple accounts that will be used to simulate people who're visiting your products page.
You can batch import, export accounts, classify multiple accounts directly using AmzChief. Moreover, the accounts can be bound with proxies, to simulate many people from different locations are visiting your products page.
That's it. It's fast, easy, and completely hands-free.
Sell New Products Quickly
It's hard to sell new products on Amazon, even a veteran seller know about it. Instead of spending too much money on advertising, you can simply crank up the product rank with AmzChief.
Once your new product sitting in the top position on the Amazon search page, more people can find your product, and you'll only a few hours away from getting the first order.
Beat Your Competitors And Take All The Profits
Don't want to share the profits with your competitors? Or you're selling products in an over-competitive niche?
No worries! AmzChief can help you beat all your competitors and leave them in the dust.
You can use AmzChief to click their Ad to eat their money, and stop their product from being shown in the top position. This is something that hardly you can do by yourself.
AmzChief Best Features

Boost your products rank on Amazon
With its unique ability that able to simulate real human behaviour, it can bring you unlimited natural traffic to your products' page… so you can make your products stand on the #1 position of Amazon search engine page.
Click your competitors' Ads and lower their products' rank
With this amazing software on your hand, you can jump into an over-competitive market with more confidence. AmzChief can help you beat your competitors by clicking their Ads. Once the money in their Ad account is used up, their products will not be shown in the top list anymore!
Bulk account register and account manager
Within a few simple clicks of your mouse, you can create multiple accounts quickly and easily. And not just that! You can also manage all the account seamlessly using this amazing software.
Latest Anti-Fingerprint Technology To Bypass Amazon Detection
You can use AmzChief with full confidence because it features the latest Anti-fingerprint technology that is able to bypass Amazon detection. And yet, the ability to completely replicate human behaviour would make even a smart AI like Jarvis, failed to notice it's a robot that visiting your products' page.
Simulate real human behaviour
AmzChief is completely different from other traffic bots because it completely replicates real human behavior. For example, searching your products' keywords to find your products, browse through the Amazon product category until it finds your products, clicking on some elements on your product page, and even adding your products into the cart.

User-friendly and intuitive interface
It doesn't require you to learn anything before you can operate AmzChief. Thanks to its user-friendly and intuitive interface, even your 60 years old grandma can help you operate this software. You'll be able to use all the features in just 30 minutes after you start using AmzChief – no hassle, no headache, no problem at all. Guaranteed!
Smart Task Creation and Schedule Running
Within a few simple clicks, you can schedule the tasks to make AmzChief running on its own. This is how you too can finally run your business even while you sleep!
Multitasking feature
It's so smart and powerful you can run multiple tasks at the same time without slowing down the process – as long your computer is able to handle it.
Flexible Customization
You can set different action and different triggers ratio for each campaign you run. That way, it can looks even more randomly so you can feel more confident that it won't be noticed as bot traffic by Amazon.
Support Proxy to simulate visitors from a different location
To make it even looks more like human – and to prevent Amazon from banning your IP Address – AmzChief supports proxy so you can make the traffic looks like it comes from a different location. See, with this feature, you'll know that your account is 100% safe and secured.
Best Anti-Fingerprint and Anti-tracking Technology
Our software approaches browser fingerprinting in a completely indigenous way. Instead of trying to prevent websites from reading your computer's fingerprint, our software allows reading it but replaces your original fingerprint with a different one. When you use a proxy IP, our software is fully different to other software that only adds a proxy to your browser to work, our software will set the timezone, language, DNS and location etc… is matched to your proxy IP, that will make you look like a real people from the proxy IP. Our software can also generate different device fingerprint and bind different fingerprint with your accounts. Once the account is bind with proxy IP, device fingerprint and other settings, the account will use these settings all the time with all operation. That is why you can use our software to manage and operate many accounts with