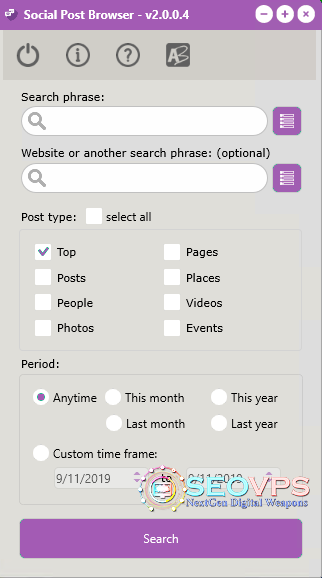 Uncover An Endless Supply of Top Performing Posts!
As a special free bonus for getting access to the Audience Analyzer software, you will also get instant access to the Social Post Browser Mac/PC software! Use this software to quickly uncover top performing posts on Facebook!
NEW Feature 
New for version 2.0, we integrated a very handy tool for saving your important search keywords which also comes with pre-defined data!
Get 30+ Predefined Keyword Groups You Can Starting Using Right Away!
With the new redesigned "Saved Searches" tool, it comes with 30+ pre-defined search phrases you can instantly start using to uncover an endless supply of top performing facebook posts!
You can optionally define your own keyword groups making it simple to organize and find your best searches. By default, you get ecommerce sites, page builder sites, and print-on-demand groups built-in to the tool.