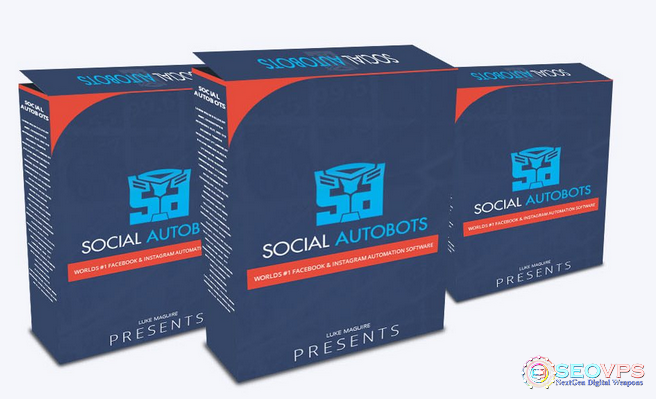 Social Autobots is an automatic software that will will automate interaction with your Customer (and your competitors) in Facebook and Instagram 24 hours a day, 7 days a week by running running in the background of your computer silently.
With Social Autobots, you have a Social Marketing Team that will do everything for you, interacts with your audience ORGANICALLY, driving your fans and boost your traffic.
Not only that, this Software run in both Windows and Mac OS
Features
Automate your Accounts in minutes — Have your accounts adding, messaging, commenting, following and driving your fans (and your competitors) to wherever you like in minutes for FREE on Facebook and Instagram.
Only multi Platform Software in the world — Social Autobots automates your Facebook and Instagram accounts at the same time, creating viral pages through interacting with your market 24/7.
Automatically Generate content — Social Autobots gathers viral videos from around the internet, imagery for your Facebook and Instagram + More, ready for scheduling in seconds.
Multiple Accounts Accepted — Social Autobots allows you to input multiple Facebook or Instagram accounts at ONCE . You do not need replace one by one any more.
Set & Forget Software — Social Autobots is the first product to automate interaction with your market through Facebook and Instagram by running in the background of your computer 24/7. Just set and Forget!
Drives traffic for FREE — Social Autobots interacts with your audience ORGANICALLY by interacting with them, resulting in VERY high Call-to-Action for FREE.
Why you need Social Autobots?
Here are some of the key things Social Autobots provides:
Socialite Autobots Will: Automatically grow your Facebook fan page, personal profile & events by interacting with YOUR target market.
It will work while your sleep by commenting, liking, following, adding, messaging and interacting with your audience.
Only have interested leads come to you, 100% free!
NEVER need to worry about spending money on ads again.
Full training that Cuts the crap and show you only the tools, techniques and strategies that actually work. No mumbo jumbo rubbish to fill the spaces, Socialite autobots Get's straight to the point to ensure you get results, fast