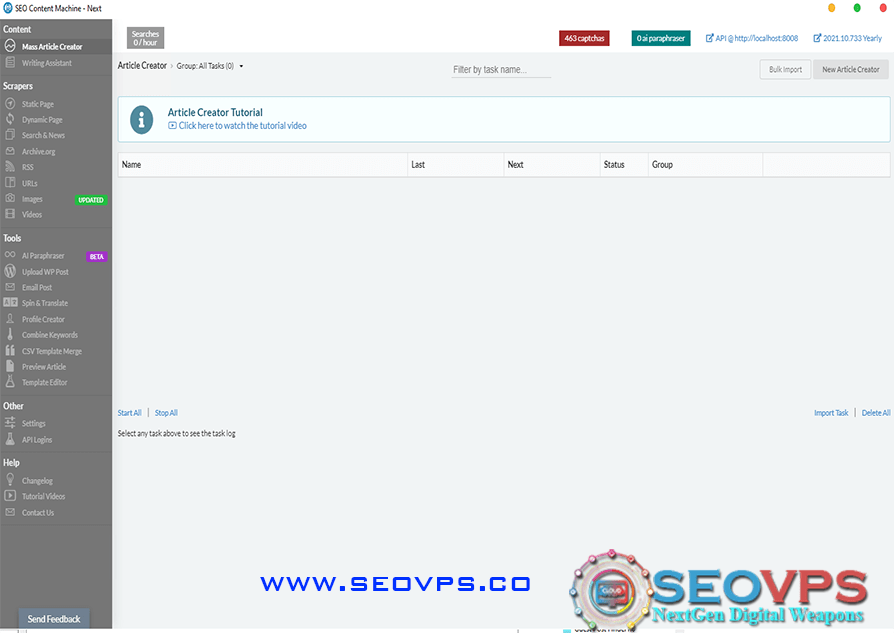 Change The Way You Create Content
The first multi-language content creator program.
You can also generate content specific to your local region. Trouble Creating Content?SEO Content Machine takes the pain out of creating SEO Content
Features
Accelerate Your Link Building
Manage Your PBNs: Draft & post to WordPress/Blogger or any site that supports post by email. Schedule drip feed content and keep your blog network fresh indefinitely.
Content Toolbag: Get your content tools. Scrape Google Suggest, create Tier 1 Content, create About Me's. Roll your own content with an Article Downloader, Translator & Content Combiner.
Content In Any Language: This program is a multi-language content scraper & generator. Supports all western languages. Create SEO content in Spanish, French, German, and more. You can also generate content specific to your local region.
Custom Content Sources: Find and download 100s of pages of content on any topic on any site. Customizable content sources mean you don't get caught scraping the same over-used sites as everyone else.
Linkbuilding Content Generation: Make the most of your link-building programs. Generate keyword-targeted articles for unlimited content submissions. Supports popular programs directly such as GSA SER, Senuke & Ultimate Demon.
Creates Readable + Keyword Relevant Articles: Special filtering algorithms remove spammy and irrelevant content automatically. This program will individually rank content against your keyword for relevancy before it is used to generate articles.
Simple Content Generation: You don't need proxies, VPS installs, or other special tools. A Content Wizard mode for beginners lets you create content in less than 10 clicks. Online help + video tutorials at your fingertips.
100% Automated Content Generation: Create articles with images, videos, and links. Translate or re-write articles using spinners to generate 100% unique content. 100% task automation with the option of scheduling it to repeat for as long as you like.
1. Mass Article Creator: From here, you can generate a MULTIPLE articles by providing the keyword.
2. Writing Assistance: Here you can generate a single article by putting the keyword and setting the language and URL limitation. The higher the number of URLs you allow to fetch information, the more time is needed.
SCRAPERS
Under this category, there are 7 options available;
1. Static Web Page: In this section, you can put an URL, then SEO Content Machine will download the entire article from that page in text format.
2. Dynamic Web Page: Under this option, you will be shown the whole front-end page. Then SCM will allow you to select portions to fetch the content text from that portion.
3. Search Engine Scrapers: Here You have to put keywords, SCM will fetch all the keyword related blog from the internet.
4. Archive.org: SEO Content Machine also allows you to fetch article s that are not even available on the internet. See the tutorials for more details. You can also download that content, remove the HTML and re-use it as you need. This is a great feature for restoring content from your old lost sites.
5. URL: You can see the full URL list Here. By providing keywords, all the related blogs URL that you have select will appear here.
6. Images: You can embed images from this options.
7. Videos: You can embed video from here.
TOOLS
1. Upload Post: You can schedule and upload your article from this option.
2. Spin And Translate: SEO Content Machine has in-built Spinner can tools that can spin your content and generate fresh and new content instantly.
3. Profile Creator: You can easily generate your bio also with this feature. You have to provide some personal details like first name, Last name, favourite movies, hobbies etc. And the software will automatically generate a compact bio or "About me" for you.
4. Combine Keyword: This feature will allow you to combine multiple keywords to make one long-tail keyword.
5. CSV Mail Merge: Allows you to mail merge your content by importing CSV files.
6. Preview Articles: Edit and preview option is available here.
7. Template Editor: You can customize or edit the template with this option. That re-usable template can be used in your article. There are a lot of template tags available within the tools that are shown on the right-hand side of the Template Editor Page.
The program comes with a bunch of premade export templates for programs like:
Article Kevo
AutofillMagic
Chimp Rewriter
ESpinner
FCS Networker
GSA SER
Lincorne AIO
Magic Submitter
RankerX
Senuke
Sick Submitter
Spin Rewriter
Spinner Chief
The Best Spinner
TurboWeb20 Submitter
Ultimate Demon
WordAi (Regular/Turin)
OTHER
1. Settings: There are various settings in this menu. App settings like app zoom level, API Keys, Search Engine settings, Scrape Search settings, Article Creator settings, Post uploader setting, Proxy settings are available.
2. API Logins: This Content generating software has a partnership with various other Spinner tools( Like Chimp Rewriter, word Ai, Spin Rewriter, X-Spinner, Spinner Chief and many more. ) and Translator( Like Google Translate, Bing Translate, Deepl Translate, Yandex Translate etc). You have permission to access them within the software by connecting the account with your API keys.
HELP
1. ChangeLog: All the recent changes that the developer has made within the software will be updated here along with the dates. Use can get the full details of updates in this menu. From bug fixing reports to any updates, all information about any changes within the tools can be glance here.
2. Tutorial Video: On clicking the button, it will redirect you to the YouTube page of SEO Content Machine where you can find plenty of tutorial videos.
3. Contact Us: On clicking the button a new page will open when you will be given the option to email. You can mail the developer any issue you are facing while using this article-generating software.
Steps To Create Articles
On Clicking the first option from the dashboard i.e; "Mass Article Generator", you will go through some series of steps.
Article Settings
Articles settings are the first tab. This is an important step in generating an article. In this step, you will have to give the keyword. Content will be created on the basis of that keyword. So it is very important that you should give proper keyword research. You can edit the task name.
Here you can set the size of the article. You can set how many paragraphs will be generated and how many URLs should SCM search before creating the content output.
One impressive thing that I noticed is that there is no limit to put keywords. You can put as many keywords as you want. SCM tools will search results for each and every keyword. But it is recommended that you give related keywords otherwise your content output is irrelevant.
Content Inserts
Under this tab, you can actually add various elements to your content like Subheadings, lists, and Questions & Answers. Even you can add tweets, Instagram posts, Images, videos, etc
Custom Content
Under this tab, you can insert your own content or paragraph in your content. The content must be in HTML format
URL/Content Filter:
You can remove or replace unwanted content from here. You can also select which URLs are used to gather content that is used for article creation.
Links:
You can insert links as well as image links in your content. Here are the tutorials.