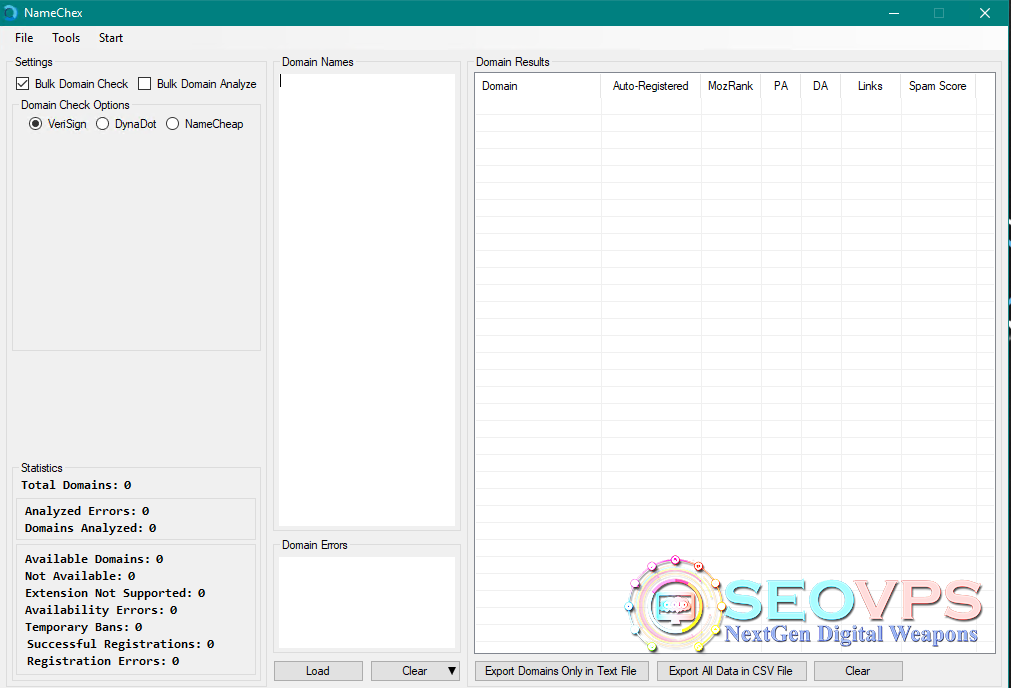 Analyze and Check the Availability of Large Domain Lists Anytime!
SEO Experts Around the Globe Use NameChex to Save Time and Money!
NameChex comes loaded with great features which makes the process of checking and analyzing extremely large lists of domain names quick and easy. Look over some of the different features included with our bulk domain software below!
Bulk Domain Checker – Take 10 or 10,000 domains and quickly check them for availability using one of the three available methods inside NameChex. Check domain availability using the DynaDot API, NameCheap API, or VeriSign WhoIs Server!
Bulk Domain Analyzer – Take 10 or 10,000 domains and analyze them for a variety of different SEO metrics using the Moz API. NameChex lets you view MozRank, Link Counts, Page Authority, and Domain Authority for any domain you want!
Domain Anchor Text Checker – Load your backlink lists and quickly scan them to see what anchor texts are being used on your specified domain. This feature also keeps track of how many times each anchor text has be found inside your backlink list!
Multiple Domains in Each Request – Sending multiple domains in each request is one of the features which helps make our software faster than other websites or applications. Send up to 100 domains with DynaDot or 50 domains with NameCheap!
Register Available Domains – Let NameChex automatically register the available domains for you! This option is available when checking domain availability using the DynaDot and NameCheap options. Note, you must have prepaid funds in your DynaDot or NameCheap account in order to cover registration fees.
Export Domain in TXT or CSV – Export your final lists of analyzed or available domain names into either Text or CSV format. Then, you can open and browse through these domain lists locally using Microsoft Excel, Notepad, or any similar application!
Paid Moz Account – Since the Moz API has different limits for paid/free accounts; Our software can make changes to it's speed depending on whether your account is paid/free. Enable this option if you have a Paid Moz subscription and limits will increase!
Real-Time Statistics – Stay updated anytime by looking at the real-time statistics whenever you want an update. Available/Not Available, Analyzed/Analyzed Errors, Extension Not Supported, and a variety of other helpful statistics are tracked for you to see!
Free Lifetime Updates – NameChex comes with free lifetime updates. Each time you load the software it will automatically check for new updates. When a new update is available you will be automatically prompted for updating to the latest version!
Save Your Credentials – By clicking the 'File' menu and selecting 'Save' your details (including API keys and settings) will be stored on your computer and loaded each time you start NameChex. Just enter once, save it, and never worry about it again!