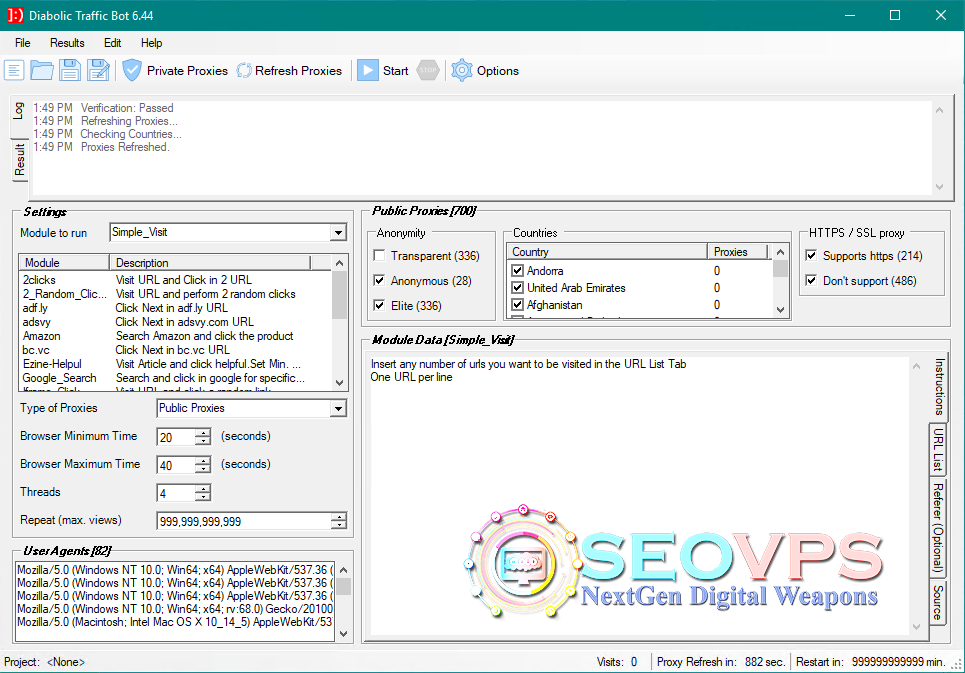 The Most Powerful Traffic Bot Boost your Views, Stats, Impressions, Votes, Likes, …
Boost your stats!
You're dreaming about an infinite flood of visitors from all around the world?
You want to increase your views with one single click?
Then Diabolic Traffic Bot from Diabolic Labs is the software you need!
The Most Powerful Traffic Bot will create an endless stream of visitors, views, votes and impressions and boost your stats incredibly!
Diabolic Traffic Bot generates unlimited web traffic to any website, video or blog.?
Diabolic Traffic Bot have hundreads of proxies ready to use instantly. All proxies are reload every 15 minutes from our servers that are testing proxies 24/7
Features
Send Unlimited Traffic To Multiple URL's
Multi-Threading
Random Browser User Agent
Limit Traffic to Send
Random Time in Web Page
Cookies Cleared Each Visit
Real-Time Traffic Stats
Private Proxies Allowed
Real-Time Log
Visble or Hidden Browser Mode
Easy Script Languange
Choose Proxy Country
Instant Proxies to Use
Included Modules:
Soundcloud Play
Youtube Search and Play
Simple Website Visit
Website Visit and Random Click
BC.VC Click Next Button
SH.ST Click Next Button
Amazon Search Product and Click
What you can do with the traffic:
Increase Website Stats
Increase Soundcloud Plays
Increase Views
Increase Downloads
Increase Votes
Manipulate Any Analitic Software
Manipulate Alexa Ranking
Simulate Users