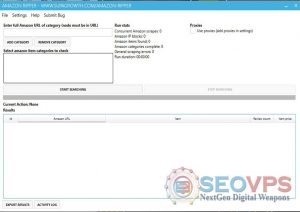 Amazon ripper is a simple free desktop application that allows you to add Amazon items categories and it will scrape/rip all the products from your selected category.
Features
What information does it scrape/rip?
Amazon ripper can scrape the item URL, item title, item review count and item price.
Why should I use Amazon Ripper?
When searching for new Amazon products to review if you are a member of the Amazon affiliate program you can use Amazon Ripper to scrape all products in a category and sort by review count (indicating purchase quantity) and price giving you a much better idea about what products to promote rather than checking each item in a category individually.
How does Amazon Ripper work?
HTTP requests are simply sent from the desktop application you download (100% free and full, no trial etc) and the HTML is parsed and the items are extracted out for you to browse or export.
Will Amazon ban my IP address?
By default, the application sends requests at a speed that will not cause your IP address to get banned. However, if you want to scrape Amazon products and items even faster Amazon Ripper does support an unlimited number of proxies.