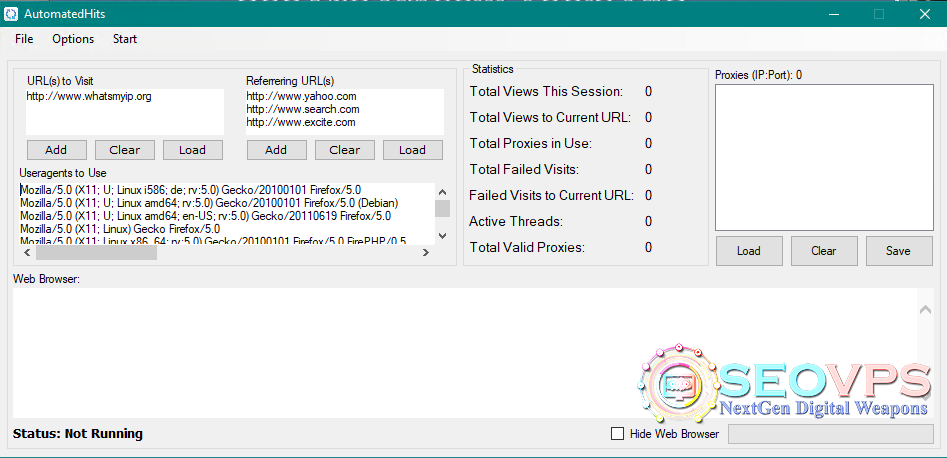 Anything you do online can be automated with BotChief such as account register, content scraper and article submit etc. It will help you to collect and analyze information, synchronize online accounts, upload and download data, finish any other job that you might do in a web browser, and beyond.
Features
Unlimited Views and Visitors – Generate unlimited amounts of visitors for your website. Send unlimited amounts of views to online videos and other media files!
Multiple URL Support – Add or Load as many website URLs as you wish. AutomatedHits will automatically deliver your desired amount of hits to each URL in the list!
Automatic Proxy Scraping – Scrape thousands of proxies automatically! Once started, this software will visit dozens of proxy websites and scrape thousands of proxies for you. You also have the option to load your own proxy lists and disable this feature from within the Settings.
Automatic Proxy Testing – After automatically scraping thousands of free proxies from across the web, AutomatedHits will automatically test those proxies using multiple threads. You also have the option to disable this from within the Settings and skip proxy testing before sending hits.
Random Link Clicking – Have the software click a random link on each page it visits. This will only click on internal links and never on a PPC network advertisement!
Random Pause Interval – Set your minimum and maximum time intervals for the software to stay on each page for random amounts of time. This makes each visit appear different!
Maximum Timeout Control – Set and control your own desired timeout interval for each request. The lower your timeout interval, the faster this software can run!
Custom Referrers and UserAgents – Control the referring URL and useragent for each request you send. Make your visits look like they are coming from random websites!