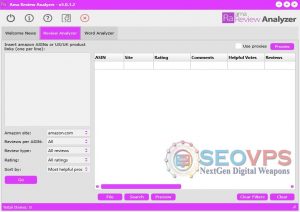 Endless HOT Product Ideas!
This brand new powerful software helps you uncover the BEST product ideas to private label as an Amazon seller!
This powerful Windows PC & Mac software is used to extract product reviews and analyze the benefits and problems of the products, giving you the ability to come up with 100's of private label product ideas to sell on amazon.
Easily pin-point the negative features for any given amazon product and then private label similar products that FIX those problems!
Works on both Mac and Windows PC computers!
Save HOURS of time scouring through thousands of reviews looking for the hidden gold!
Extract reviews based on specific star rating, most positive, or most critical!
Integrated Stop Words database and Instant Preview feature!
Extract all reviews given by verified purchases only!
Extract reviews based on the most helpful product reivews or by the latest reviews given
Get 200-300 daily fresh proxies that are built-in to the software's new Proxy feature!
Built-in Word Analyzer for quickly seeing the most frequent word phrases contained in thousands of reviews!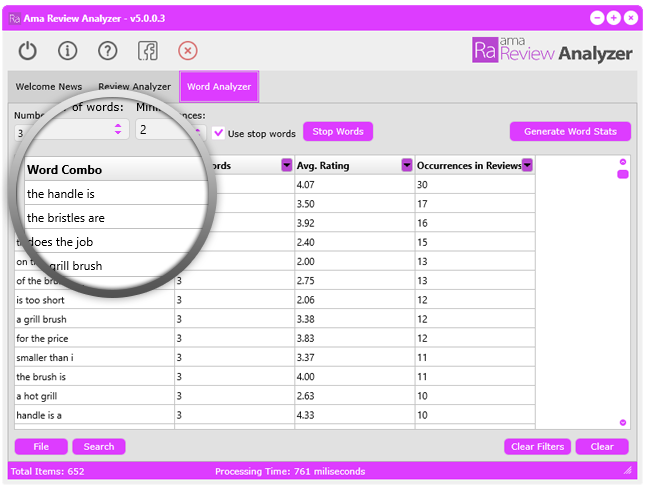 Sophisticated Word Anlayzer Tool
Use the built-in "Word Analyzer" tool to quickly analyze repeating word combinations that appear through-out thousands of the reviews.
Instantly see what people "hate" or "love" about any amazon product in just seconds. Then use that information to private label similar products that FIX those problems!
Using the Word Analyzer will save you hundreds of hours scouring through thousands of reviews for several products!
You will NEVER find another sophisticated software that can analyze thousands of reviews in just seconds like this anywhere else!
You can easily preview all the reviews that contain the corresponding word combination!
This saves you 100's of hours manually looking through thousands of reviews trying to find the information you need!
With just a few clicks, you can see each and every review containing the word combo generated by the "Word Analyzer" tool.
The reviews are shown in your default web browser giving you easy access to your web browser's find feature.
Simply hit "CTRL-F" on your PC or "COMMMAND-F" on your Mac, then paste and you can instantly see where the corresponding word combo appears in each review.
You can select a range of 1 to 10 number of words contained in each word combination. Selecting a higher number of words can reveal some very powerful word combinations you would have NEVER thought of.
Simply put, this software does all the hard work saving you hundreds of hours looking through thousands of product reviews! This tool will mine out the gold nuggets you desperately need!
(note: help videos are provided showing you how to quickly use this powerful software )